I leave you these beautiful phrases of happy birthday to share in your social networks with your brother of the soul, that brother you love so much and that despite the dislikes you carry in your heart.
* Happy birthday to the brother who constantly supported me on my bad days. You are indeed a superhero and I wish you all the luck in life. Stay blessed.
*
Life offers us so many blessings and a brother is one of them. Happy birthday, brother.
*
Protecting the little sister from worries and strangers are his duty. He will act like he does not care but he always had and always will. Happy birthday, brother.
*
Wishing my brother a very happy birthday, it is a special day not just for you but for us both. The best brother title definitely goes to you. Enjoy the day.
*
A brother's arms will always be there in the hours of need. Haopy birthday to the best brother ever.
*
I saw you on your worst and i am seeing you on your best. Happy birthday brother, keep on shining bright.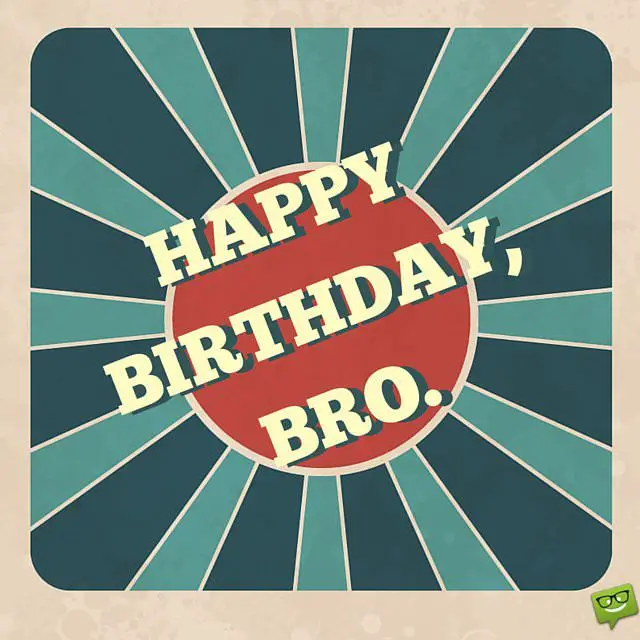 *
I always knew I was not alone because I have you, and today is the day when you came to us. Happy birthday, brother.
Your birthday reminds me every year that i need to work hard to see you acomplish your goals brother. Happy birthday.
*
My brother's birthday is the best day in the year and i want you to celebrate it with ebthusiasm. Happy birthday lad.
*
Happy birthday brother, let life guide you to the path of success and happiness.
*
We grew up together having all the sweet childhood memories. You have been my best friends since then. Happy birthday to my loving brother.
* The bond between a brother and a sister is something which is so beautiful even a mother can not describe. Happy birthday brother, may you shine in life and get happiness in everywhere you go.
Si te han gustado estos mensajes de cumpleaños para tu hermano (happy birthday to my borther), te invito a que leas AQUÍ mas frases y mensajes de cumpleaños y mas artículos relacionados.